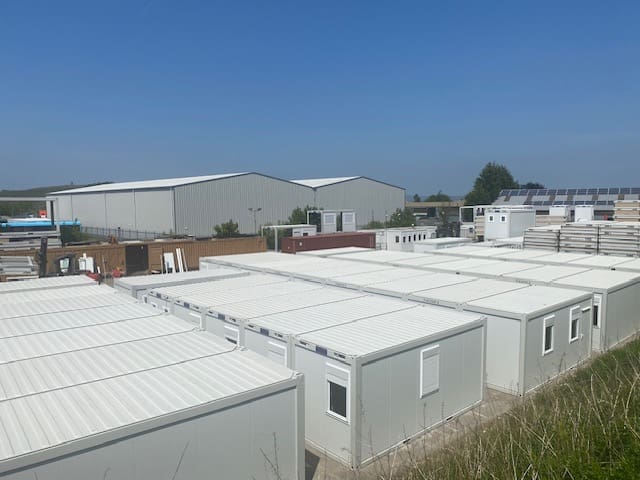 In the world of modular buildings and accommodation, innovation is key. That is why we're excited to announce our latest innovative product. Introducing the MH 101; a 100mm walls Modular Unit/Accommodation Container.
Designed to meet the diverse needs of our clients, the MH 101 is a testament to our commitment to providing robust, adaptable, and high-quality spatial solutions in an ever-changing market. So, with that said, keep reading to discover everything you need to know about our brand-new modular product.
Unveiling the MH 101 100mm wall kit
The MH 101 is not your typical modular unit. It is designed as a light, solid construction system consisting of STEEL floor and roof frames and corner profiles.
The MH 101 boasts a spacious 20' x 8' x 9'6" design, conforming to ISO Standard 1161, with a tare weight of 2200 Kg. This unit offers ample internal dimensions: 5.771m length, 2.151m width, and 2.51m height, providing a comfortable and versatile space for various applications.
However, that's not all. The MH 101's modular design allows for unlimited compounding of units in longitudinal and transverse directions, and up to 3 floors in height. Plus, it can be delivered assembled or as flat pack kits for convenience and ease of transport.
What are the benefits of our new 100mm Panels?
There are many added benefits of our new 100mm panels including:
Fire endurance rating of 60 minutes
Meets Part L in planning
Improved EPC rating
No increase in cost
Structural Specifications
The MH 101 is built to last. Its framework is crafted from cold-formed steel profiles, finished with corrosion-resistant electrophoresis, galvanizing primer, and super weather-resistant paint.
The floor is a sturdy structure featuring galvanized steel sheet metal, non-combustible mineral wool insulation, CCA boards, and a PVC flooring covering.
The ceiling is a resilient corrugated "ISO" Roof, insulated with non-combustible mineral wool sandwich panels, and equipped with meteor water outlets for efficient drainage.
The façade side walls are comprised of interchangeable mineral wool panels, with a fire rating of 60 minutes according to BS 476.
The unit also comes with a standard external aluminium door and PVC tilt and swing windows equipped with aluminium rolling shutters.
Explore more about our new buildings here.
Going Beyond the Basics
Additional Features
The MH 101 is more than just a modular unit. It's a sophisticated grey-white steel construction (RAL 9002), with doors and windows in contrasting white.
The unit is compliant with CE standards, featuring a suitable connection plug/socket, an inner distribution system, a protective current switch, and automatic fuses. Fittings include LED strip lights, light switches, power sockets, and USB ports. All dimensions, weight, payload, and stacking are RINA Certified, ensuring the highest quality and safety standards.
Check out our portable shower & toilet units for more versatile solutions.
Delivery and Warranty
We understand that our clients have unique needs and timelines. That's why we offer various delivery configurations – in bundles of 3 x 20' kits or 4 x 20' kits, or assembled (for local deliveries only). Plus, we provide a 1-year warranty on all components and paint, giving you peace of mind with your investment.
The MH 101 in Action
Imagine setting up a construction site in a remote location. You need a robust, comfortable, and easily transportable accommodation solution for your team. The MH 101 is the perfect fit. With its spacious design, robust structure, and easy assembly, it provides a comfortable living and working space for your team, no matter where your project takes you. Why not take a look at our construction sector page to see how our solutions could benefit your next project?
Why Choose T F Jackson?
At T F Jackson, we're more than just a provider of modular accommodation solutions. We're your partner in creating a space that meets your exact needs.
With over 30 years of experience in the industry, we've built a reputation for quality, reliability, and customer service. But, we don't expect you to simply take our word for it – you can read what our customers have to say on our testimonials page.
Ready to experience the future of modular accommodation?
The MH 101 represents the future of modular accommodation – a robust, adaptable, and high-quality solution that meets the diverse needs of our clients. Whether you're setting up a construction site, responding to a disaster, or simply need a versatile space, the MH 101 is the perfect choice
If you're ready to experience the future of modular accommodation for yourself, contact us today by calling +44 1298 79753 or emailing [email protected] for more information. Our team of specialists are on hand to help create the perfect space for your needs.