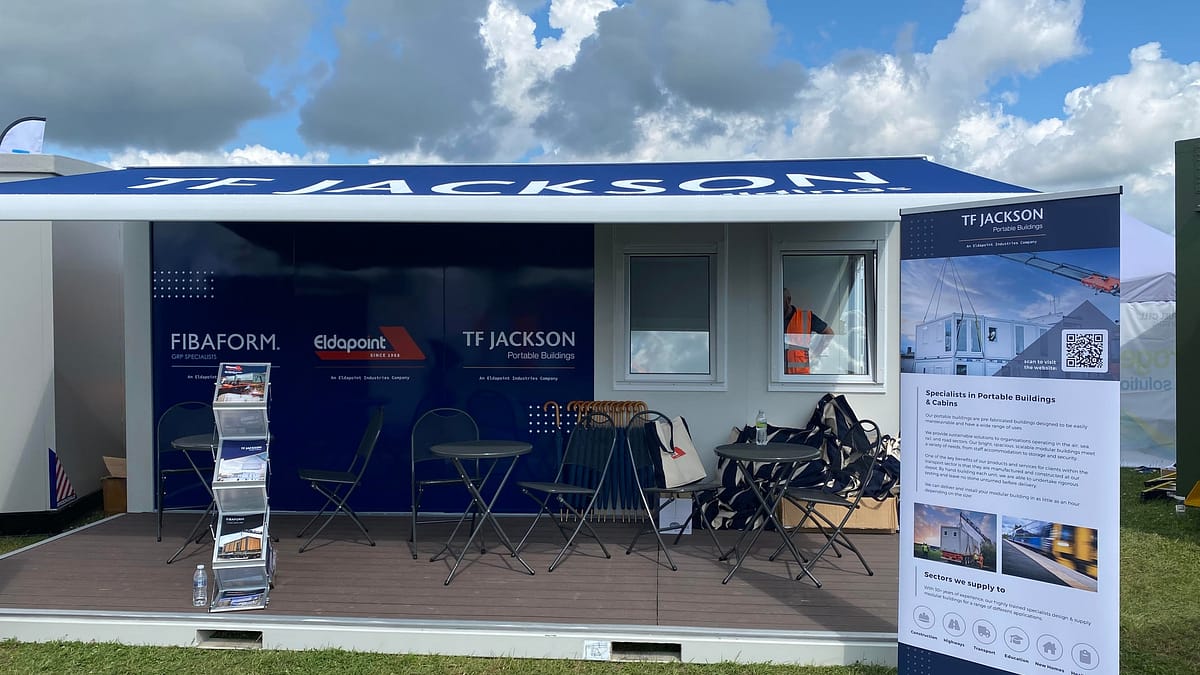 The rail industry is crucial in transportation, connecting people, goods, and economies across the globe. In the realm of rail, innovation and collaboration are key drivers for progress. One event that epitomises this spirit is Rail Live, and this year, we were lucky enough to exhibit. In this blog, we will dive into the essence of Rail Live, explore why it has become a must-attend event and discuss how we can help if you require portable and modular buildings within the rail industry.
What is Rail Live?
Rail Live is a celebration of the rail industry's achievements, innovation, and collaboration. Through the exhibition of cutting-edge technologies, knowledge-sharing sessions, networking opportunities, live demonstrations, and a focus on sustainability, this event has become a crucial platform for driving progress in the rail sector. By bringing together industry leaders, experts, and enthusiasts, the event fosters collaboration and inspires new ideas that will shape the future of rail.
How we work with the rail industry
Here at TF Jackson, our team has developed a reputation as the leaders in the rail sector, having worked with organisations across large-scale projects providing welfare units, accommodation, offices and specialist equipment buildings.
Our staff work with rail experts to construct facilities that fulfil their project needs. Our top concerns are safety, quality, and practicality and we provide durable and secure portable steel buildings for a variety of rail projects.
Our commitment to both safety and innovation within the rail industry means we were delighted to recently announce our latest innovative product; the MH 101; a 100mm walls Modular Unit/Accommodation Container. The MH 101 is a testament to our commitment to providing robust, adaptable, and high-quality spatial solutions in an ever-changing market. To learn more about our new product, click here.
TF Jackson's Exhibition at Rail Live
We were delighted to have the opportunity to exhibit at Rail Live. It was a fantastic event to connect with other industry professionals and discuss the future of the rail industry including our new products and how we are continually adapting them to stay ahead of the ever-changing industry.
As well as showcasing our innovative products, we also offered same-day drawings for rail projects, with over 200 designs ready to go, we were able to bring so many ideas to life on the spot. We were delighted with the response to this with many attendees commenting on our customer-focused, flexible approach to design.
Overall, it was a fantastic experience with many opportunities for networking and new business, and we look forward to exhibiting again next year.
Get in touch today
So, whether you're working in the rail industry and you're in need of a specialist portable building, or perhaps you work in another industry and are after a flexible portable solution built bespoke to your needs, whatever it is, TF Jackson is on hand to help. If you have a question or query about any of the solutions we offer, get in touch today by calling +44 1298 79753 or emailing [email protected] and a member of our specialist team will be in touch.